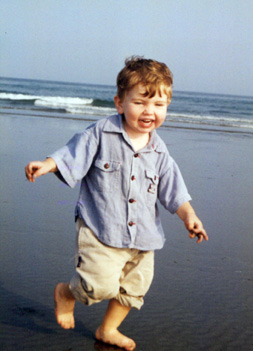 Brendan joined our family at age two and a half weeks old, quickly filling our world with happiness. Our love only expanded as he grew. A puzzle master at two, we took him to music class, Sports Jam, 'Babies and Books,' swimming, a wonderful Play Group, and Mrs. Alexander's Preschool. His smile lit the room. He needed early intervention-speech therapy and had a severe nut allergy—little things like that. We had never believed it was possible to be so happy. There was no shortage of laughter.
At Cove Elementary, Marie volunteered as a room parent, making sock puppets with his kindergarten. She and her friend started a school chess program. He also played soccer, baseball, tennis, basketball, took piano lessons, and received reading tutoring. Marie worked on a class mural project with other Cove Moms. Each fifth-grader painted a favorite book in a long mural near the library. Brendan painted James and the Giant Peach. Not a big reader, he liked it when we read him books like The BFG. He loved helping people and set up a lemonade stand to raise money after Hurricane Katrina. He lived for Kiwanis basketball and baseball. His Major A-team, the Giants, won a Beverly City Championship. He played Babe Ruth baseball and summer league tennis at Bass River, which continued into high school.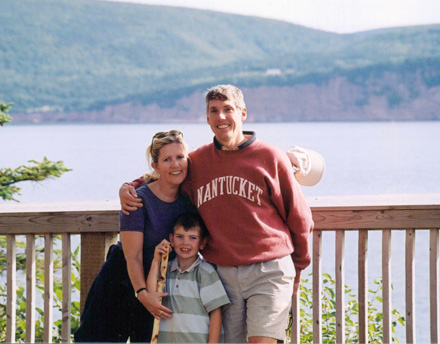 We both, but especially Tim, watched his games. Tim and Brendan played basketball and catch. Tim also encouraged Brendan, whose nickname was becoming Toby, in his running. Brendan sailed every summer taking beginning through to racing programs at Jubilee Yacht Club in Beverly.
Extended family vacations in Ocean City, New Jersey were filled with kite-flying, surf-chasing, mini-golf and boardwalk amusement rides. At Disney World when he was five, he loved water parks, all rides, and getting autographs from as many Disney characters as he could. Summers, he attended ACME camp at Lynch Park plus Audubon and Sports camps. We traveled to the Berkshires/Tanglewood for hikes and 'Film Night' conducted by John Williams; and visited our Uncle in San Diego and Aunt in Seattle—plus the Olympic Peninsula/Vancouver Island. We saw Acadia National Park, ME and Quebec/Charlevoix/Tadoussac/Sanguenay Fiord. Visiting Aunts, Uncles and Cousins in PA, we also saw Hershey, Gettysburg and Lancaster. Bren loved his grandparents, family and friends as they loved him.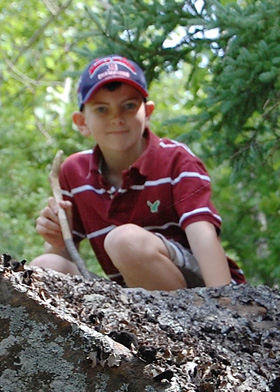 Competitive with ping-pong, Connect Four, backgammon, cards, and chess, Brendan always played games at family gatherings. He loved the color green, chocolate milk, playing cards when we went out to eat, juggling, trivia, jokes, and feeding birds at Ipswich River Wildlife Sanctuary. During junior high at Glen Urquhart School (GUS), Brendan enjoyed Latin, writing lab, cross-country races, gym, and math. He continued with reading/writing tutoring. We went to Cooperstown's Baseball Hall of Fame. Being kind and sensitive, Brendan related as much to the GUS motto, 'Mean Well, Speak Well, Do Well,' as any pre-teen/teen, maybe more. Sometimes quiet or shy, Brendan didn't find it easy to reach out and connect—though his good sense of humor helped. Since he loved volunteering, the Appalachia service trip was a highlight–also his 8th grade art project, class hike, and cross-country races. After he graduated, we traveled to Scotland for ten days, including Edinburgh and Isle of Skye. His smile made our hearts light.
At St. John's Prep in Danvers, Brendan continued his interests in Math, Latin, Chess, Cross-Country and Tennis on the JV team as a sophomore. Tutoring continued. He traveled with a school group to France and Italy. We visited Sanibel, also Key West, FL, and swam with dolphins. Vacations were some of our happiest memories. A pleasant and funny companion, Brendan loved hiking and nature. One of our best trips was to the Grand Tetons/Yellowstone National Park in Wyoming. But anxiety and depression had begun. Before sophomore year, he was diagnosed with Klinefelter Syndrome–a genetic disorder that occurs in the womb and affects roughly 1/600 boys.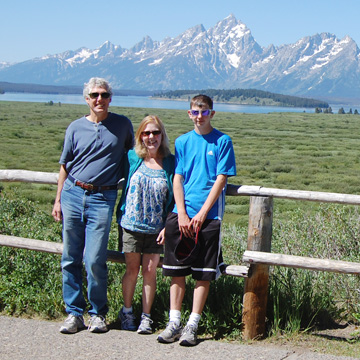 A collection of physical, sexual (low testosterone & other hormonal imbalances), neuro-biological, learning, social-cognitive and other issues, KS is still unique to each individual. Some have more issues than others and some have none. However, nearly 70% of boys with KS have anxiety and/or depression at one point or another. Many mature four or more years later than their peers. More support and help for boys with Klinefelter Syndrome is needed. For more information, go to the Association for X and Y Chromosome Variations: www.genetic.org.
Still, during high school at SJP, Brendan also played on the Bass River Travel Tennis Team, volunteered with Beverly Bootstraps Thrift Shop, Smith Elementary School's Afterschool program and Northeast ARC. He worked after school one year as a bagger at Henry's Market. He was inducted into the World Language Honor Society and National Honor Society. Won the school chess award as a senior. But Brendan was still getting professional help for anxiety and depression. Through everything, he continued volunteering. He helped coach a Special Olympics Basketball team and Summer Track team. Perhaps his volunteer activities helped to mask some of his internal struggles and distract him.
As a sophomore, even during tennis season, Brendan developed an intense passion for Ultimate Disc (Frisbee.) www.buda.org / www.usaultimate.org He played on Varsity for two years and continued in summer/fall leagues. He added another passion—Spartan Obstacle races, running 2 Fenway Park Sprints, 3 Amesbury Sprints, and a Spartan Beast race–14 miles in 7 hours, up and around part of Killington in VT. One purpose of his race was to raise $1,000 for the Jimmy Fund. www.spartan.com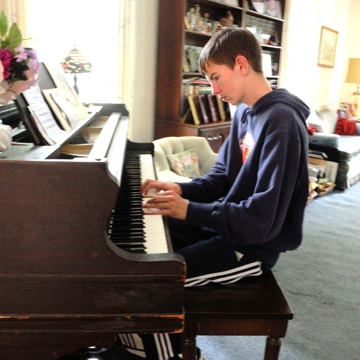 Singing and writing amazing song lyrics and poems helped him cope. We remember fondly how he would walk up the porch steps singing pop, rap, hip-hop, country or alternative rock songs. The last book he read and loved, The Crossover, was a verse novel. After proudly graduating from SJP, Brendan earned money in summer as a server at a restaurant. Brendan began his fall semester at his first choice, Assumption College, a good school of which his father was a proud alumni—starting off happy and optimistic. But recurring depression and social anxiety prompted a move home in December. He took two spring classes (Sociology, Motor Learning) at Endicott, doing well, as he tried to figure out his next step. A diligent and valued employee, he also worked nearly full time for Business & Professional Exchange in Beverly and was set to take Statistics in July at at Salem State University. He was making plans to pursue a career in Physical Therapy and playing Ultimate Disc in summer leagues. He was saving his money for a car. But he still had depression–and did not reveal just how much, even to those closest to him. Brendan struggled socially, and was lonely. In spring, 2015, he was tested at www.SocialThinkingBoston.com and found to be a WISC (Weak Interactive Social Communicator.) This group, just as in Klinefelter Syndrome, is also the social group at highest risk for anxiety and depression.
Brendan's eyes were as blue as a sky filled with possibilities—but clinical and situational depression took him from us too soon. We will forever grieve the loss of the young man he had begun to mature into. We'll never understand how or why. But we want to honor and remember Brendan as a good and thoughtful son—kind, sensitive, funny, caring, active, and smart—at his happiest playing ultimate disc, winning at chess, or helping others. www.afsp.org has materials to help us deal with surviving such a devastating loss and perhaps try to better understand and not play the 'what if' game.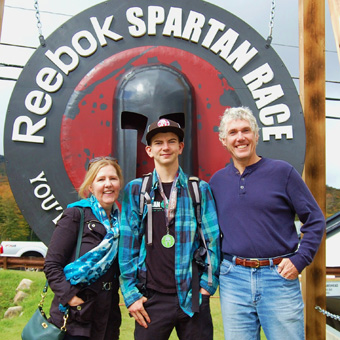 We all know someone with major depression and sadly, sometimes end up asking if we could have done more for the person we loved to prevent such a loss. We will miss and love Brendan forever. He may be at peace, but this hole in our hearts can't be filled. Still, he'd wish us peace, and want to us to reach out to others. Nineteen years is too brief a life, but like skipping stones over a lake, his life caused ripples in the lives of others. Even his last act as an organ donor helped two strangers with the gift of a new kidney. Please pray for their continued recovery.
A donor advised fund has been established in Brendan's name to help establish a clinic to provide medical care and more research on Klinefelter Syndrome/47,XXY. Plans are already underway to assemble a team at a major Boston area hospital which will serve males from birth through adulthood but we cannot get this clinic going without major support.
We hope friends and family can honor his memory with a gift to the: Brendan Tobin Memorial Fund/ECCF, Essex County Community Foundation, 175 Andover Street, Danvers, MA 01923. Or visit this page to donate online.
Thank you very much. With Love and Peace, Marie and Tim
HELPFUL LINKS:
www.brendantobinmemorialfund.org
Public Facebook Page: Blue Skies – Remembering Brendan Tobin
American Foundation for Suicide Prevention Out of Darkness Community Walk Team – Blue Skies – Remembering Brendan
Suicide support and Prevention: www.afsp.org
Klinefelter Syndrome Information and help: www.genetic.org