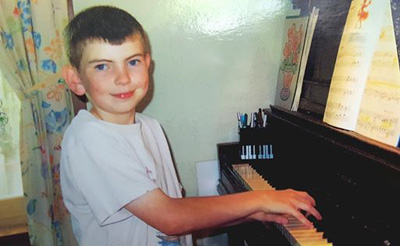 Our son Brendan was a compassionate young man who loved to help others, sing, play cards and chess, run Spartan Races, and play ultimate frisbee. He also experienced anxiety and depression. Diagnosed with '47, XXY' also known as Klinefelter Syndrome, neuro-psych tests revealed socio-cognitive, expressive language, executive function, impulse and inhibitory control issues. He was sensitive, a bit shy, several years less mature than his peers, and struggled socially.
Despite his vulnerabilities, Brendan was moving forward to meet his many challenges. Yet we lost him to suicide at age nineteen.  Our hearts are broken and our scars will never fully heal but as our deep love for our son continues, so does our determination to help other boys who struggle with challenges they face due to Klinefelter Syndrome. (www.genetic.org)
The Brendan Tobin Memorial Fund was set up to raise money for a clinic for Klinefelter Syndrome/47, XXY at a major hospital in the Boston, MA area. Thanks to your generous donations so far, such a clinic has now been established at Massachusetts General Hospital in Boston. This clinic will draw from an expert medical community of informed pediatricians, endocrinologists, reproductive experts, speech therapists, psychologists, psychiatrists, social workers, and others in the medical realm, and will care for males from birth through adulthood.
The clinic is just beginning to grow, and we are continuing to raise money to fund a part-time social worker at the clinic, as well as more research studies into social cognition, maturity, executive function, language disorders & mental health. These resources are so important in dealing with Klinefelter Syndrome, and we hope that as the clinic expands, more young people like Brendan can be helped in the years to come.
MORE ABOUT KLINEFELTER SYNDROME/47,XXY
Klinefelter Syndrome is a Sex Chromosome Aneuploidy that occurs in 1 in 500-650 boys. Along with other brain function challenges, which vary by person, 60-70% of males with 47, XXY suffer from anxiety and/or depression. As it is a syndrome, symptoms vary by individual though infertility, taller stature, longer arms and legs, weak bones, weak muscle tone, lack of muscle development or facial hair, weak tooth enamel, lower energy, and other physical, hormonal, neuro-cognitive, psychiatric, and social issues seem to occur in many. Testosterone replacement therapy is usually begun in puberty but studies so far show that testosterone replacement therapy still doesn't seem effective in addressing some of the psychosocial and other brain issues. In some boys, speech delays, immaturity (4-5 years less than their actual age), expressive language, executive function, inhibitory control, impulse control, sensitivity (both sensory and over-emotional reactions), reading and other learning disabilities including ADD, ADHD, Autism, Asperger's Syndrome, as well as Epilepsy and higher risks for diabetes, osteoporosis, thyroid problems, and high cholesterol can all exist along with Klinefelter's making life even more challenging.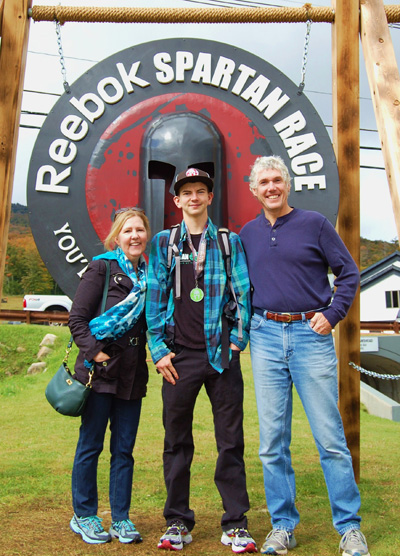 The earlier a diagnosis is made, the better the chance a young boy has for a happy, successful life. Currently, the nearest clinic is well outside New England. This new clinic will be invaluable to so many boys and their families and help increase their quality of life physically and emotionally—and potentially make all the difference. Thank you for your generosity.
TO MAKE A DONATION
The Brendan Tobin Memorial Fund is being administered through the Essex County Community Foundation, which offers several easy ways to contribute.
By Check:
Make checks payable to The Brendan Tobin Memorial Fund/ECCF. Mail or deliver to: ECCF, 175 Andover Street, Danvers, MA 01923.
By Credit Card:
Online credit card contributions (MasterCard, Visa, American Express or Discover) can be made 24 hours a day, seven days a week. Visit the online donation page.
By Money Transfer:
To make a money transfer, contact ECCF before you make your transfer, to let them know it is coming. Contact Michelle Pelletier at ECCF by email or by phone, at m.pelletier@eccf.org or 978-777-8876 x144. More details on each type of transfer below. If you would like to make a gift of mutual funds, or restricted or closely held securities, please call us for instructions. ECCF's back office services are provided by Greater Horizons, powered by the Greater Kansas City Community Foundation.
For wire transfer of cash:
Please include the fund name and the amount of the gift in your communication to Greater Horizons. Wire to:
Bank of America
One Kansas City Place 1200 Main
Kansas City, MO 64105
Fed Wire ABA #026009593 ACH ABA #081000032
For credit to: Greater Horizons Account No.: 00-3490-478773
Contribution to: Your fund's name/ECCF
For transfer of government securities, stock, corporate bonds and other marketable securities:
Please contact Greater Horizons directly at 866.627.3440 or support@greaterhorizons.org. Greater Horizons must authorize acceptance of these securities. Please include the fund name, a description of the shares and the name of the brokerage firm in your communication to Greater Horizons.
For stock, corporate bonds and other marketable securities:
Wire to: National Financial DTC #0226
For credit to: Greater Horizons Account No.: NEX-003131 Contribution to: Brendan Tobin Memorial Fund/ECCF
If you have any questions, please contact Donor Services at 978-777-8876.