We wanted our 1st Blue Skies Blog post to be the wonderful story Brendan's Uncle John wrote, in which he shared memories and photos of Brendan. We couldn't imagine a better start for this blog — thank you, John!  And we are sure Brendan thanks you, too.
XOXO Marie & Tim Tobin
---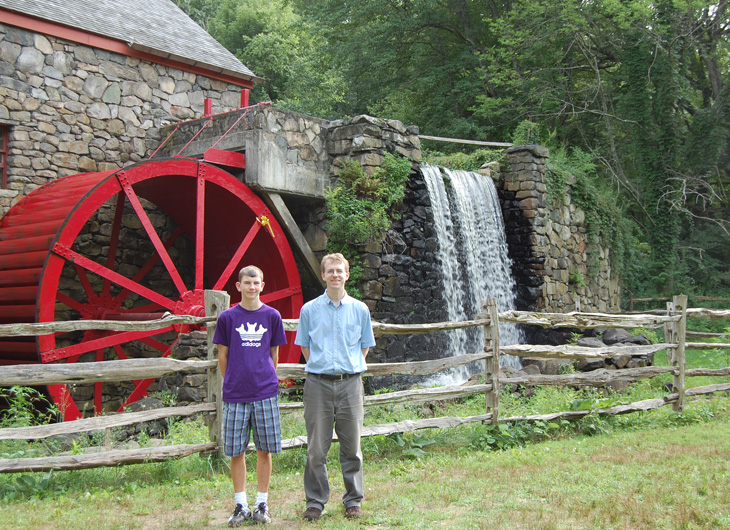 Remembering My Nephew, Brendan Tobin
by John Lechner
We all have a fixed amount of time on earth to live our lives, to make a difference, to achieve our goals. Some people are given a long life to fulfill their potential, while others only have a short time and then the rug is pulled away, just when they are starting to gain their balance.
Such was the case with my nephew Brendan. He was funny, playful, energetic, shy, courteous, naive, temperamental, loving, and relentlessly eager to explore the world and prove himself. Sadly his life was cut short by depression. He died at the tender age of nineteen, right at the age when youthful idealism begins to evolve into solid plans and goals. But he lived a good life, and had a more positive impact on the world in his short years than many do over a century.
So in honor of those nineteen years, I would like to share nineteen memories of Brendan, so that you can get to know him too. Hopefully these will bring you some of the joy that he brought to me and those who knew him. These aren't in any particular order, but I'll start with the earliest.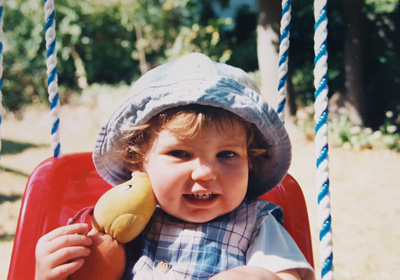 Every child has a favorite stuffed toy, and for Brendan it was a rainbow caterpillar which we all called Wormy. He never left home without it. He actually had more than one, and they were replaced when they wore out, but he didn't mind — whichever one he carried at the moment was his Wormy, and a treasured companion.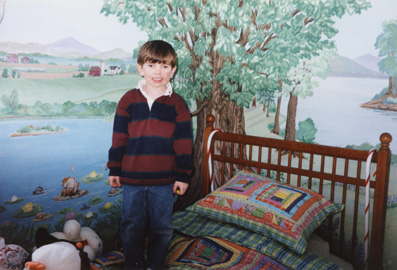 When Brendan was very young, his mother Marie painted a beautiful mural on the walls of his room, depicting picturesque landscapes inspired by the tales of Beatrix Potter and Kenneth Graham. It was a huge painting, covering every wall, and I helped paint some of the trees. Brendan loved storybooks, and I read many stories to him in this magical room.
He also loved building puzzles, starting at a very early age. Although an active kid, he was a visual thinker, and would patiently study the pieces looking for similarities in shape and color. He eventually progressed to 1000-piece puzzles, and there was usually one in progress whenever I came to visit. Being a puzzle fan myself, we spent many contented hours puzzling out scenes of sailboats, landscapes, or underwater creatures.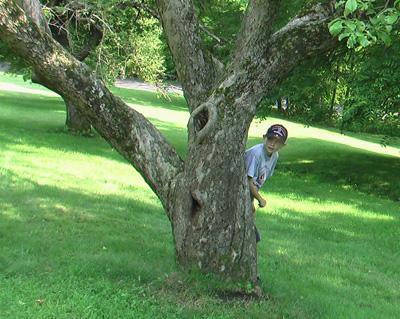 Hide and seek was one of his favorite games. Indoors or out, Brendan could fit into the smallest hiding place you could imagine, like an octopus slipping into shell. Behind a couch, inside a closet, under a desk, he always found an ingenious spot to hide away. Outdoors he would virtually disappear, and remain hidden until a peal of laughter would give away his location.
Our family took many trips to Pennsylvania to visit relatives, and there was often a big family reunion with lots of cousins, aunts, and uncles. My Uncle Francis always organized games for the kids, and led a parade around the picnic grounds. When he was about five, Brendan followed behind him, blowing his own kazoo trumpet in the family band. He loved being a part of things.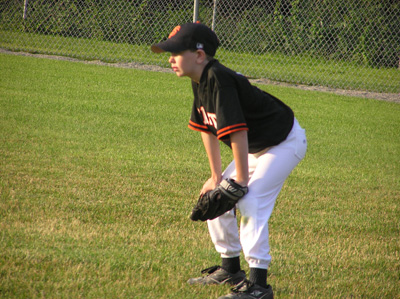 I remember going to one of Brendan's baseball games, when he was about ten. We stood along the metal fence cheering him on — his parents, grandparents, and myself. He wasn't the star player, but he loved baseball, and loved playing catch with his dad Tim in the backyard, or at the park, or anywhere there was grass.
Brendan loved games of all sorts — if he wasn't playing a game, he was asking you to play a game. Chess, checkers, backgammon, UNO, Five Crowns, he loved learning new games and teaching them to others. Growing up, he usually brought a card game wherever he went, including restaurants, where we would play together while waiting for the food to arrive.
Ping pong was another favorite, we played many times in the basement of his house. I was very casual about the rules, bouncing off the walls or making a dive for a shot that was clearly out, but it was the fun that mattered, and he had more fun than anyone. We would sometimes play doubles with his other cousins, and he was always patient with the little ones.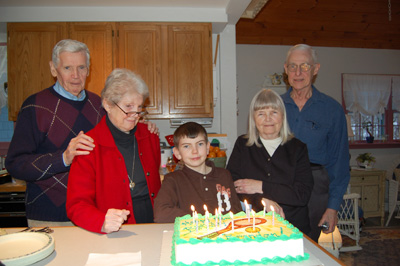 Brendan was always thoughtful and considerate of others, especially his grandparents when they came to visit. He always helped them up the path or held the door, and they loved him dearly as well. He also got along well with his cousins and friends; as an only child, his extended family was important to him. He was always good with younger cousins, teaching and encouraging them.
He took piano lessons, and loved music of all kinds. He would sing around the house, even while working. He wrote songs and made recordings of them, though he was shy about sharing them. As a teen he was diagnosed with Klinefelter syndrome, which can affect learning and social skills. He increasingly struggled to share his feelings with others, and music and poetry were great outlets for him.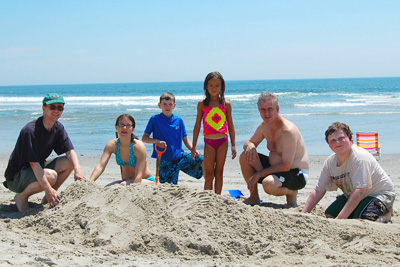 Brendan loved the beach, and our extended family took trips to Ocean City, NJ, and the Delaware shore. Brendan loved everything about the seashore — swimming in the ocean, splashing and diving, flying kites, throwing frisbees, building sandcastles, playing paddle ball, picking up crabs or small creatures washed ashore.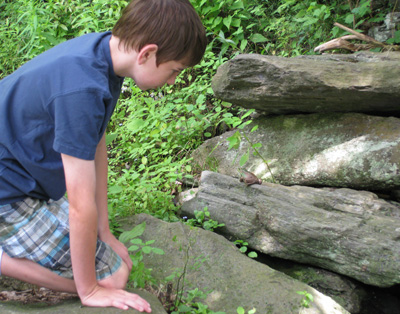 We also went vacationing in the Berkshires, where we had picnics at Tanglewood and visited the museums in the area. The inn where we often stayed had a little pond with frogs. Brendan would try to sneak up very quietly without scaring them. Sometimes you wouldn't even see them in the green moss until you were nearly on top of them, and they leapt away. A few times he managed to catch one, and held it very gently before letting it jump back in the water.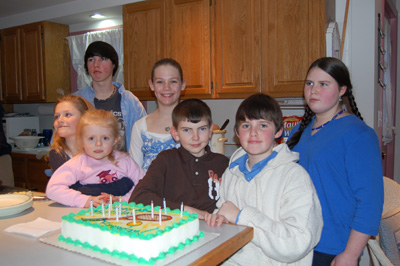 Family birthday parties were always exciting events for Brendan, with cousins from both sides of the family descending on the house for an afternoon of games, presents, and ice cream cake. The kids played soccer or wiffle ball in the backyard, which was on a hill near the woods. Often we would have to retrieve a lost ball from the thorny brush.
Brendan was studious, but struggled with a reading disability and attention issues. He worked hard at his assignments, and excelled whenever he could draw upon his own natural curiosity. He would often do homework in the kitchen, for he liked being around people. Amidst the bustle and talk of company, seemingly oblivious to the noise around him, he still managed to get things done.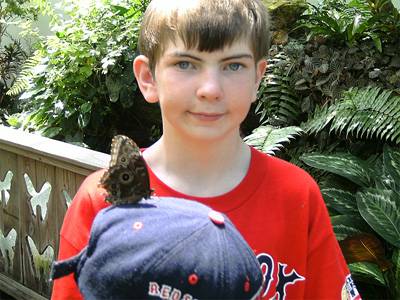 Brendan loved animals of all sorts, he seemed to have a special report with them — dogs, cats, birds, butterflies, dolphins. At a butterfly sanctuary in Key West, he had butterflies landing on his hands, shoulders, and head. And visiting the historical home of Ernest Hemingway, he made friends with one of the many cats prowling the gardens, who were far more interesting than the dusty furniture inside.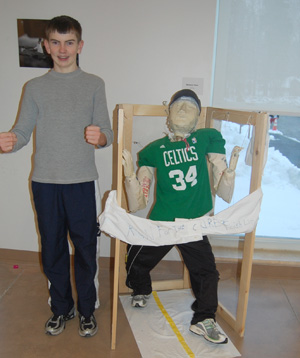 Once for a school project, Brendan had to make a sculpture about something meaningful to him. He built a life-size figure of a runner symbolizing the race to cure cancer, which had already affected his extended family and would continue to do so. He felt passionate about this topic even at a young age, and aspired to find a cure one day. Even at a young age he cared about helping others, and made a lemonade stand with his friends to raise money for hurricane victims.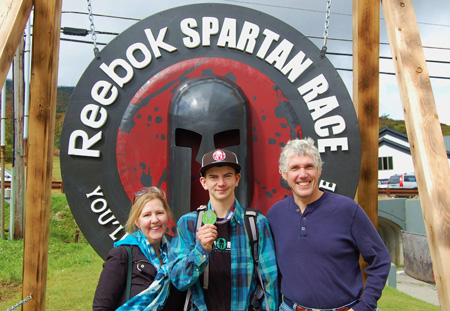 In his teen years, Brendan became active in Spartan Races, which combined two things he loved — competitive athletics and raising money for charity. These races are lengthy obstacle courses, in which participants get extremely muddy as they run through a grueling litany of tasks, but he loved every minute of it. Looking back, it seems symbolic of the struggles in his own life that he had to overcome, and it must have been gratifying to overcome these more tangible obstacles.
I remember his graduation from high school, my parents and I drove up and it was a beautiful day. We were all so proud that he had come so far. Brendan had been suffering from depression for a few years, despite doing well at school and sports, despite counseling and encouragement from doctors, friends, and family. He made the National Honor Society, and his teachers spoke highly of him as he prepared to enter Assumption College in the fall. Little did we know that his depression still lingered below the surface.
I remember the last time Brendan visited his grandparents' house in Needham, he helped my sister and my mother go shopping and straighten up the dining room. He walked around the backyard where he had spent many holidays and family parties. There was a grey catbird chirping in a tree. Brendan whistled back, and it almost seemed like the two of them were communicating. I'll always wonder what they were saying to each other.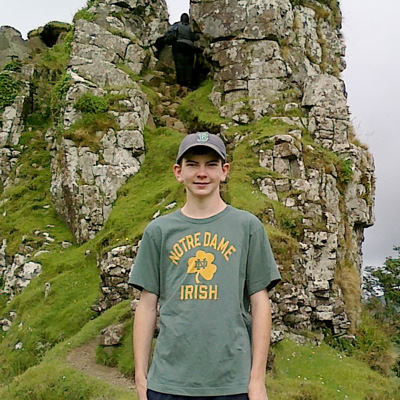 There are so many more memories I could share, it's amazing how much can be compressed into nineteen years, how many ups and downs. And never for a moment did we think it might all come to an end so soon. That's the cruel nature of depression, it can hide beneath the surface, unseen and unpredictable until it's too late.
A few years ago, Brendan went on a school trip to help an orphanage in Jamaica, and afterward wrote a letter to one of the children he met, encouraging him to hang in there, and promising to come back. It's the kind of encouragement Brendan himself had often received from family and friends, and I often wish I had written such a letter to him during those final months, and wonder if it might have made a difference. But there is no way of knowing what might have happened. Depression is just too unpredictable, and a positive turn can easily be followed by a negative one.
So how do we move forward? We do what Brendan would have done, which is to be sensitive and supportive to those in need. If you know someone who is feeling discouraged, who doesn't fit in, who is struggling to make their way in the world, don't push them aside — reach down and lift them up. You might be doing more good than you know.
For this lesson, and for a thousand wonderful memories, I'm eternally grateful for knowing Brendan Tobin, a beautiful boy and a shining star who brightened all of our lives.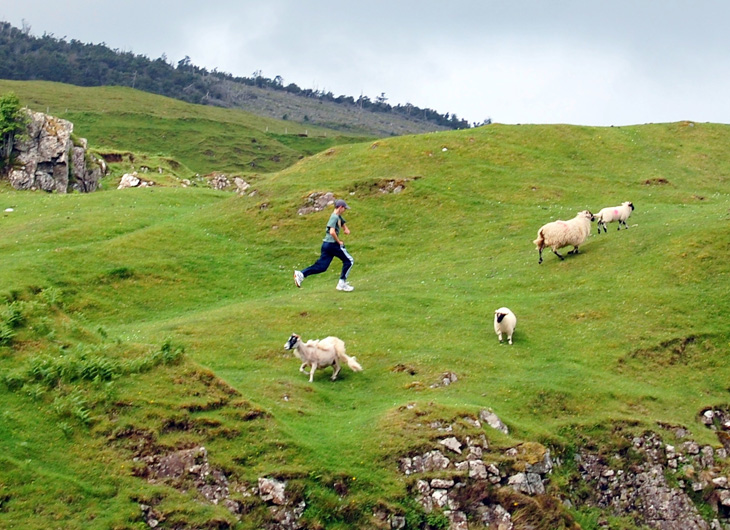 John Lechner is an author, illustrator, animator, and puppeteer. You can learn more about his work at his website. This article was first published on Medium.